I was walking around my friend's work area, and I stumbled across XW Western Grill. We were looking for a place to eat, and this place seemed decent. I have never seen a place that serves western food that comes with a complimentary all-you-can-eat salad bar, especially when the salad bar serves more than just salad.
So, we decided to give it a try.
XW Western Grill
XW Western Grill is located in Raffles City Shopping Centre itself, in the basement floor. It's just a short walk away from City Hall station (East-West Line [Green], and North-South Line [Red] interchange).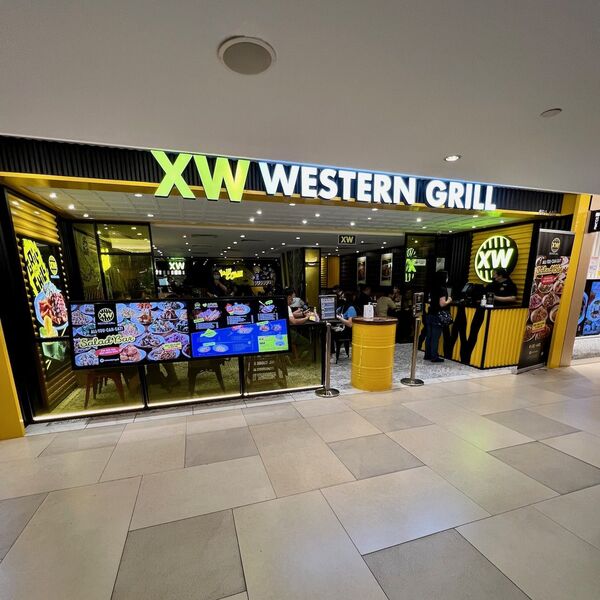 XW Western Grill takes a leaf out of Korean cuisine, where side dishes or "Banchan" are served with every meal. Here at XW Western Grill, with every purchase of a main course, you are treated to a complimentary all-you-can-eat salad bar. Otherwise, if you just want the all-you-can-eat salad bar, it's $10.80, which is almost the price of the cheapest main!
Most salad bars I know of provide the usual vegetables (e.g. lettuce, tomatoes, cucumbers, carrots, celery, olives, bell peppers), with bread croutons, cheese and various types of salad dressing. XW Western Grill takes it a step further by offering sides out of your typical salad bar.
XW Western Grill offers the following sides:
– French fries
– Onion rings
– Sweet potato fries
– French-style mashed potato
– Grilled corn
– Mac & Cheese
– Charcoal broccoli
– Garlic bread
– Cheesy tots
– House coleslaw
– Salad
– Fusilli fruit salad
– Red potato salad
– Caesar salad
– Korean spicy sesame bean sprout, and more!
To order your mains and drinks, you'd need to tick what you want on the order chit and pass it to any of the restaurant staff.
For the sides, there's a tablet at every table where you can place your side dish orders directly to the kitchen. There was this odd rule though – you can only order 4 side dishes at one go. So if you'd like to order 6 side dishes, you would need to break it down into 2 separate orders on tablet.
The Food
Chicken Chop with Black Pepper Sauce – $12.80
Overall, this is a pretty decent chicken chop, with black pepper sauce on the side. It's a totally boneless chicken, unlike most places I've been to, where there will be a little bit of bone at a corner.
The black pepper sauce had just the right pepper kick. Too bad that they were really stingy with the sauce.
Chicken Ham Carbonara Spaghetti – $11.80
The spaghetti carbonara turned out pretty nice despite it looking like it was just simply thrown on the plate.
It was however, on the saltier side though.
Verdict
Overall, the mains were rather average, and the food (including the fried side dishes) were rather greasy. I felt really thirsty after the meal.
The staffs working here look and feels overworked, although they still try their best to serve you. They bungled up the orders of the 2 tables sitting right next to me. So, service-wise, there's definitely room for improvement.
I also noticed that they have a really bad side order system in place. Yes, it's efficient that customers can place their side orders straight to the kitchen via the tablet. But I noticed that each side order generates a paper chit. If I order 10 side dishes, that's 10 paper chits printed. With an all-you-can-eat complimentary salad bar, imagine the paper that is wasted just to print these paper chits. Surely, this part of the ordering chain can be digitalised as well.
I'd say the only highlight here were the free flow side dishes, though they were meh as well. If you're hungry, then this place would probably be worth it, because the salad bar consists of side dishes other than your traditional salad bar. It's also probably why this place was packed (with a queue!) during lunch and dinner hours.
Would I come back? Sadly, no.
Read also:
My Rating
70%: Ambiance
70%: Price (value for money)
70%: Taste
80%: Location
70%: Service
72%: Overall Rating
Opening Hours
Open daily from 11 AM to 9 PM
Address / Contact Information
+65 6264 7066
252 North Bridge Road
#B1-44B Raffles City Shopping Centre
179103 Singapore