Feast your eyes on the best banana leaf rice and crab curry in town at Devi's Corner, Bangsar! There's nothing quite so satisfying as digging into rice drenched in assorted curries with their own 'fragrance'.
I went there for lunch after a long absence. It's been at least a good 3 years. Devi's Corner used to be one of my favourite spots for banana leaf rice before the pandemic hit. However, I stopped going to Devi's Corner when the food quality dropped, along with its service. Just recently, I decided to give Devi's Corner another try as I had a hankering for banana leaf rice. It's been so long since I tucked into a really nice banana leaf rice and somehow, this place came to mind again.
Devi's Corner, Bangsar
Devi's Corner is located in the heart of Bangsar, nearby Bangsar Village II Mall. Parking outside the shops can be really hard to find. I'd suggest you head straight to the mall's parking spot to park your car, rather than try to go a few rounds to find a spot outside.
Devi's Corner has moved since I last visited their restaurant. Previously, they used to be located at the corner store (hence, Devi's Corner), but have since moved to a smaller store just down the same road of the original restaurant.
As a result, there's lesser seating space now. If you have been to their old premise, they used to occupy both floors, with upstairs being air-conditioned and dedicated just to serving banana leaf rice. The pandemic has been hard on many eateries and perhaps they have shifted to a smaller place to keep it going.
Currently, the store itself is rather hot (you know lah Malaysian weather!). Furthermore, you will be eating spicy curries that will cause you to sweat buckets. Not a pleasant combination.
I visited the place for lunch on a week day. It was pretty empty. The first thing that struck me was the service still had much room for improvement. The waiters here aren't as attentive as when I first visited the establishment years ago.
The main highlight – Banana leaf rice!
Banana leaf rice is originates from India. What's unique about banana leaf rice is that instead of eating from a plate, you eat from a banana leaf.
It is said that eating on a banana leaf will enhance the taste of the food served on it. And I fully agree witth that. Even nasi lemak wrapped in banana leaf tastes nicer.
The banana leaf rice at Devi's Corner is much tastier than the competitor in the area. At Devi's, you get side dishes, which varies from day-to-day. It's usually assorted veggies with mango chutney.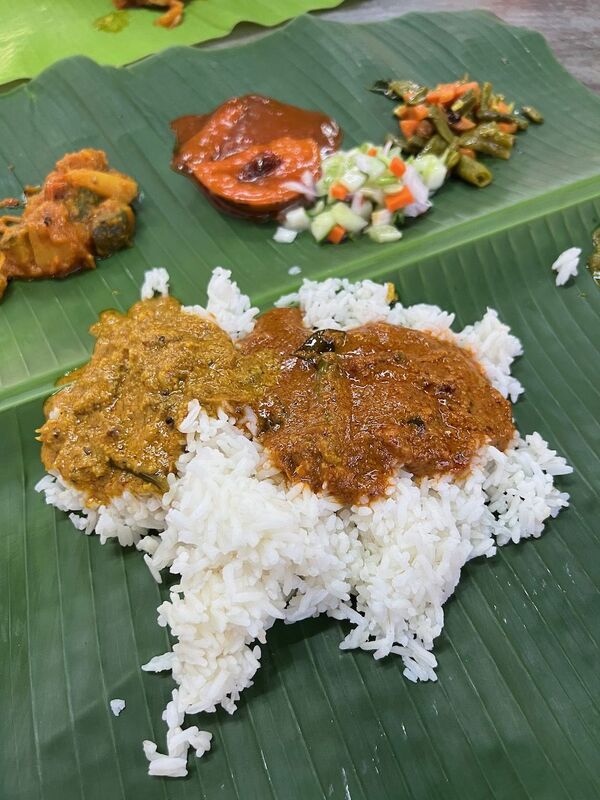 The main highlight here is their curries! They have crab, fish, and chicken curry. The crab curry is to die for! It is thick, richly spiced and slightly creamy! Their fish and chicken curries are good too.
They also provide unlimited flow of papadam and fried bitter gourd. Unfortunately, the fried bitter gourd that were served to me was on the harder side, maybe because it has been fried for quite some time.
You can also add-on protein. They have everything from chicken, mutton, squid, and even crab! I particularly like their fried squid. It's freshly fried with onions each time you order.
After you complete your meal, you should always fold the banana leaf inwards as a sign of gratitude to the host, even when the host is the proprietor of an eatery. However, if you have banana leaf at a funeral wake, the leaf should be folded outwards a sign of condolence to the family of the deceased. But other than that, folding the leaf outwards is considered rude.
Verdict
Overall, I'd say the food here is quite impressive. You can't wait to dig in as the waiters start plonking down rice and side dishes on your leaf, and then drench different curries onto your rice. The smell of the curries is just so mouth-watering. The unlimited deep-fried bitter-gourd and papadam serve as appetisers that truly does the job of appetising the food.
The only downside, the service could do with a huge upgrade. The waiters were aloof and not attentive. A single request takes multiple reminders to different waiters before it gets fulfilled.
Despite the poor service, I will definitely be back for more because the curries are really nice.
Read also:
My Rating
70%: Ambiance
75%: Price (value for money)
90%: Taste
70%: Location (ease of parking)
70%: Service
75%: Overall Rating
Opening Hours
Open daily from 7 AM – 11 PM
Address / Contact Information
012 267 6714