Disclosure: Some of the links in this post are

affiliate links

. If you buy something through one of those links, you won't pay a cent more, but we'll receive a small commission, which helps keep the lights on. I never put anything on the page that I haven't personally verified and used.
For more information, check out our Privacy Policy.
I recently stopped using my Lenovo ThinkPad T490, and had to rely solely on my MacBook Pro. Unlike the Lenovo ThinkPad which had multiple ports (i.e. USB-C, USB-A, HDMI, Ethernet), my MacBook Pro only has two USB-C / Thunderbolt ports. I am used to having an external monitor to extend my screen. This is where I found myself in need of a USB-C to HDMI adapter. Hence, began my hunt for an adapter as I did not want Apple's official one – Apple USB-C Digital AV Multiport Adapter, which costs a bomb at RM349.
After a long hunt, I decided to get the Kingston Nucleum USB-C Hub from Shopee (links below!). Here's my Kingston Nucleum review.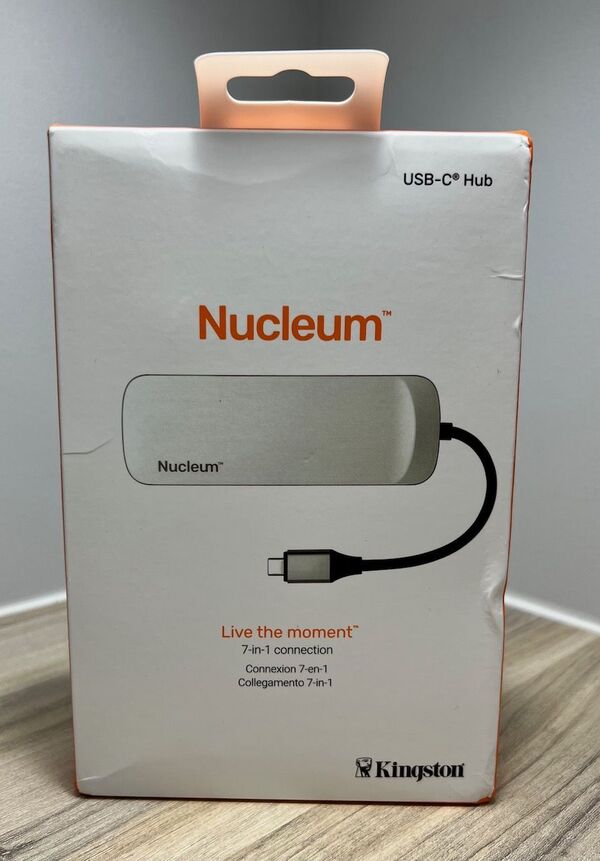 Kingston Nucleum USB-C Hub
Pros
Cons
✓ 7 ports.
✓ Pass through charging.
✓ Fully functional without external power.
✖ Switching between charging and not charging makes the hub switch off for a second.
General Specifications:
– 7 ports from one USB-C connection:
> USB-C (power input),
> USB-C (data),
> HDMI (supports 4K),
> 2 USB-A 3.1 Gen (5Gb/s),
> SD,
> microSD.
– Power delivery pass through up to 60W.
Priced at RM165, it's still remarkably cheaper than Apple USB-C Digital AV Multiport Adapter that costs a whopping RM349. It's still however, slightly more expensive than many USB-C adapters and hubs. But those aside, I personally feel that this price is justified. Read on!
Measuring 5.0 by 1.8 by 0.6 inches, it's about slightly larger than an average hand palm. The Kingston Nucleum made from a silver aluminium which makes it a great match for Apple devices. It is a silver coloured box with a 5-inch USB-C black cable cord extending from the bottom edge. My first impression was that the Kingston Nucleum was sturdy and solid, but a little bigger than I expected. Still, it is small enough to take around.
The HDMI port sits on the top edge. The left edge holds a USB-C port, a USB-A port, and SD and micro SD card slots, whilst the right edge holds a USB-C port with a power icon for pass-through charging and a USB-A port.
What I liked about the Kingston Nucleum?
✓ 7 ports in 1 hub
The port arrangement is pretty standard for many USB-C hubs that you'll find in the market. But one thing most of those hubs don't offer is multiple USB-C ports. The Kingston Nucleum offers two USB-C ports, one for charging, and one for any other use. This is surprisingly handy, especially for laptops that only have a single USB-C port.
✓ Pass through charging
The Kingston Nucleum USB-C Hub has a dedicated USB-C port for charging your laptop, being able to deliver up to 60W of power. For laptop with only one USB-C port, this little tool would be very handy.
Do note that 60W is sufficient for charging most laptops, just not the full capacity for those higher-tier laptops like the 15-inch MacBook Pro (87W). Still, 60W is enough to keep a 15-inch MacBook Pro topped up provided you're not doing something that's super battery intensive like rendering video or playing a heavy graphics game.
✓ It doesn't require external power to function
Unlike some other USB-C hubs which require external power to function, the Kingston Nucleum does not require any. This means you need not keep it plugged into your charger if your connected device has enough power to run. It still outputs over HDMI and all other ports just from the USB-C connection to your laptop.
What I wished the Kingston Nucleum did better at?
✖ Switching between charging and non-charging makes the hub switch off for a second
If you do utilise the USB-C port with a power icon for the pass-through charging function, do remember to first unmount any attached external storage. Switching from charging to non-charging using the Kingston Nucleum makes it switch off for a second. So, any mounted external storage through the Kingston Nucleum will be disconnected to your laptop as well.
✖ The Kingston Nucleum also does not support Thunderbolt 3
If you have any Thunderbolt 3 devices, just do note that it is not compatible with Kingston Nucleum as it does not support Thunderbolt 3.
Verdict
Overall, the Kingston Nucleum delivers as expected. It is reliable and is a functional way to add USB-A, HDMI, SD and microSD functionality to your connectivity-starved laptop. And for that price that it comes at, this one is worth a second or even third look if you are out looking for a gadget like this.
Just make sure to not connect or disconnect the power source from your Kingston Nucleum during file transfers.
Check out also:
Get yours today at Shopee / Lazada Malaysia!
I got mine from this shop on Shopee. Generally, I found sellers selling the Kingston Nucleum to be priced from RM168-192 on Shopee.
If you prefer to shop on Lazada, I've taken the liberty to find a seller for you to get your Kingston Nucleum from. It was, for once, slightly cheaper on Lazada.