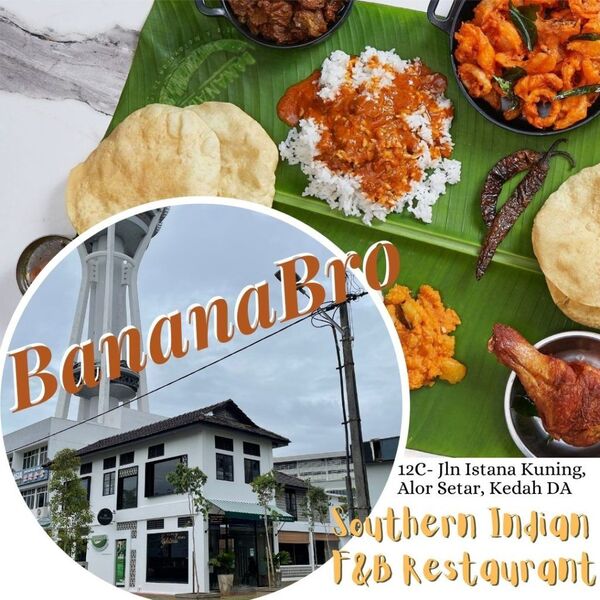 Banana leaf rice is something that is not so easy to find in Alor Setar. So, when BananaBro opened up a branch in Alor Setar, I thought it's nice to finally have an establishment dedicated to serving banana leaf rice.
BananaBro has opened its doors in Alor Setar. How recent? Well, when I went there, they were still looking for hires.
BananaBro, Alor Setar
Situated just next to the iconic Alor Setar Telekom Tower, BananaBro is strategically located right in the heart of Alor Setar. It is hard to miss it because it is nestled among the iconic landmarks of Alor Setar. You have the Menara Telekom right next to it and Aman Central just a stone's throw away too. Right on the other side is a car dealership with C-Mart is directly opposite it.
In the evenings, this area is where people congregate to hang out. You even get a mini pasar malam there too on many of the evenings.
First impressions
The place was nice enough. There is ample parking lot at the back of the restaurant. Upon closer look, the building where BananaBro is located also houses a coffee house, Frank Laurent Roasters. Going by the looks of things, the coffee house seems quite popular. I saw a lot of young people hanging out there. Right at the entrance is also a gelato corner, Frosley Gelato. Frosley Gelato is Frank Laurent's homemade gelato.
So basically there are 3 outlets at this place, BananaBro, Frank Laurent Coffee Roaster and Frosley Gelato.
BananaBro's Food
Banana leaf rice set aka Craving Set
Anyway, I was rather excited at the prospect of a banana leaf rice restaurant. We ordered 2 sets of their Craving Set which is basically their banana leaf rice set. Each set came with 3 types of vegetables, 4 types of curries, pappadam and rasam. The yoghurt which was in the advertised menu did not come with the order. When we enquired from the staff, we were told that we had to pay extra for the yoghurt. That really got me scratching my head because the photo showed the yoghurt. All items are refillable.
Presentation wise, I think BananaBro did a rather good job. Restaurant was spartan looking but had a rustic feel. Even their banana leaf had their own special marking. However, that's where it all seemed to stop.
Banana leaf rice is often associated with quick service. You sit down, and your food will be served very soon after that. However, the service was slow. Maybe being new, the waiters/waitresses still were quite lost. They were polite though. However, I couldn't help but be distracted by shuffling feet as I was eating. One of the staff shuffled around creating this sound that sort of just got to me after a while.
First time I went there, I wasn't impressed by the taste. I've had better banana leaf rice elsewhere. BananaBro just didn't quite meet up to my expectations. All the food were either too salty or oily that day. I always felt that banana leaf rice doesn't leave us feeling so 'heavy' after that but this one felt exactly that. As a result, it just didn't hit that spot. The deep fried vegetables were a tad too oily. The fried cabbage was too salty and it was the same for the pickled cucumbers too. I've always enjoyed Indian curries but this one just didn't start off very well. The rasam came only as we were about to finish our meal. It wasn't too bad though, quite tangy.
Protein side dishes – Chicken 65 and Ayam Goreng Berempah
We wanted to order their mutton varuval but were told that they were out of mutton. We ordered their Chicken 65 which was on promotion at 99 sen. The chicken was a disappointment as I felt it was so salty that everything else about it was overwhelmed by the saltiness.
I also ordered their Ayam Goreng Berempah to take home. I think we've tasted better fried chicken from Yasmeen (a popular nasi kandar restaurant). Their fried chicken was a disappointment. It was rather dry on the inside.
Verdict
2 sets of banana leaf rice sets plus 1 glass of ice water and 1 glass of warm water (and the piece of tabao fried chicken) set us back RM41.45. Was it worth the money paid? I have to say no. Everything was just too salty. It was as if the cook was on salt steroids that first time I went.
My friend even said she would not go back to BananaBro for the banana leaf rice again. But, since it is still new and might be facing teething issues associated with being new, I thought maybe we'd go back there for their roti canai and other breakfast offerings.
BananaBro is a nice enough place to hang out with friends and makan. The staff is friendly and nice. The location is also great. You can always just drop by after shopping for groceries at CMart or window shopping at Aman Central. But food wise, it's just so-so. It's still tough to find a really nice place serving nice Indian curries in Alor Setar. BananaBro wasn't quite the Malaysian thing that I was expecting.
Read also:
A second visit
After more than a week after my first try, I went back to BananaBro again. This time, there was an improvement overall. The mutton varuval was available and we tried it. We also replaced the normal rice with biryani.
Everything else was free flow except the briyani, of course. The mutton varuval wasn't that great. The best mutton varuval I've had so far is still the one in Chennai Curry House in Sungai Petani. Hard to beat the food there. Unless you are a 'rice pot', the briyani portion was enough for 2. I am a papadam fan and it is refillable. So, it was nice to be able to have as much as I wanted.
The vegetables this time around was nicer, no more on 'salt overdrive', but… Overall, the second experience was better but nice Indian curry is still hard to find here. Would I be back again? Probably not.
I did try to wait at Frosley Gelato on my way to the car but after 10 minutes of sitting at the counter, I left empty handed. A gelato corner without anyone to serve customers. Service really could do with an upgrade, or maybe they are just so understaffed.
My Rating
80%: Ambiance
65%: Price (value for money)
65%: Taste
75%: Location (ease of parking)
75%: Service
72%: Overall Rating
Opening Hours
Open daily from 10 AM – 10 PM
Address / Contact Information
04 736 4270
12-C
Jalan Istana Kuning
Bandar Alor Setar
05200 Alor Setar
Kedah