My sister raved about how good the soufflé pancakes were at the Neighbour's Coffee Bar. If you read Google reviews on this place, you'll also read that most will mention how soft and good their soufflé pancakes are. Hence, on one fine lazy Sunday afternoon, I decided to pay this place a visit to try it out for myself.
Neighbour's Coffee Bar
Though located at a rather deserted row of retail shops, the shop was packed on a late Sunday afternoon (around 2 PM-ish). It seemed to be the only shop opened at that time.
A cacophony of chatters and laughter greeted me as I approached the premise. The establishment, had both outdoor and indoor seating. Even on a hot Sunday afternoon, I was surprised that patrons were willing to sit in the hot and stuffy weather just to have their offerings. Surely, it was a sign of what was to come. And with that I walked, expectations on the high.
My first impression was how cheery the place felt. The that the café was brightly lit and ample natural light streamed into the café through the glass façade. The décor was simple. A service crew attended to me immediately after I stepped in. I was advised to checked in via the MySejahtera app. I was pretty lucky as there was an empty table inside, and was shown to the table. No sweating it out in the sauna like the conditions out there!
The restaurant has done away with paper menus. To order, one simply needed to scan the QR code provided and place the orders via your phone.
The Food
Breakfast Plate – RM29
Their take of breakfast plate consists of chicken bratwurst sausage, your choice of turkey toast or beef bacon, eggs of your choice – scrambled, sunny side up or poached, sautéed mushroom, bolognese sourdough and mesclun salad. I chose to try their turkey roast, and scrambled eggs.
Did you know?
Mesclun means a mixture of young tender greens (such as lettuces, arugula, and chicory)
Overall, there was nothing much to shout about for this dish. There was just nothing that stood out. It was just your average breakfast items, with an overprice tag. For a better breakfast plate experience, try Big Breakfast Crepe at Strangers at 47 (and it's slightly cheaper too!)
Miso Carbonara – RM23
My sister ordered their Miso Carbonara. This dish consists of choice of beef bacon or turkey toast, miso & dashi paste, parmesan, eggs and fettuccine. She opted for their beef bacon.
Again, their pasta was average. It was a little on the saltier side. But hey, miso is salty, right?
Fuwa Fuwa Pancake with Chocolate Banana – RM21
This was the highlight of the day! There were a few choices of soufflé pancakes available, though the main difference between the choices are the condiments or sides that come with the pancakes. It was either the Fuwa Fuwa pancake with gelato, fruits, matcha azuki, chocolate banana, or just the pancake itself.
Did you know?
The term fuwa fuwa (ふわふわ), a Japanese term, describes something that is light, airy or fluffy.
I decided to go with the chocolate banana. It consisted of chocolate cream, caramelized banana, chocolate flakes, soufflé pancakes and nama cream.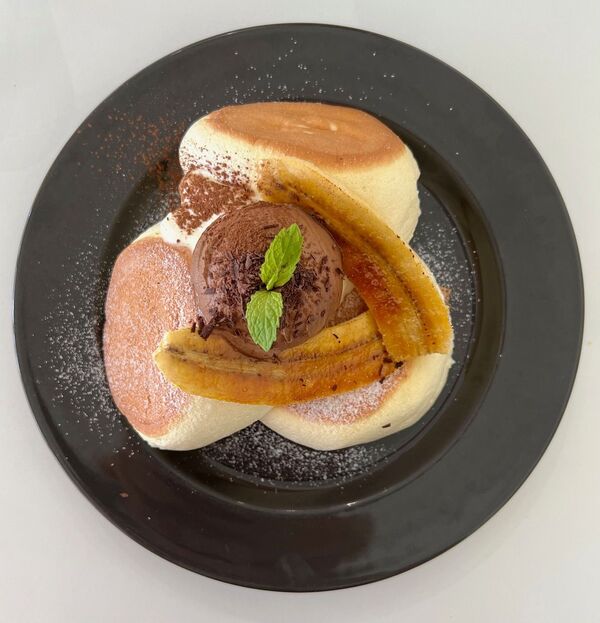 True to my sister's review and reviews on Google, the Fuwa Fuwa Pancake is indeed soft and fluffy. It's so soft that you'd be excused if you feel you are eating premium clouds for your dessert. The caramelized banana and chocolate cream complimented the soufflé pancake really well.
Just a point to note, remember to eat it while it's still warm, as it will get less airy / hard real quick.
Verdict
Service-wise, it's top notch. The young and friendly service crew here were efficient, helpful and attentive.
The price here, is slightly higher than your average next door hipster café. Regrettably, I do not feel that their main dishes warrant such a high price given that they are pretty average. However, it's definitely worthwhile to pay this place a visit at least once, just for their soufflé pancakes.
My Rating
80%: Ambiance
60%: Price (value for money)
70%: Taste
80%: Location (ease of parking)
85%: Service
75%: Overall Rating
Opening Hours
Open daily from 9.30 AM – 6 PM
Address / Contact Information
012 238 7185
A-G-1
Seri Gembira Avenue
No 6, Jalan Senang Ria
Happy Garden
58200 Kuala Lumpur