Disclosure: Some of the links in this post are

affiliate links

. If you buy something through one of those links, you won't pay a cent more, but we'll receive a small commission, which helps keep the lights on. I never put anything on the page that I haven't personally verified and used.
For more information, check out our Privacy Policy.
Have you ever heard of a gyro ball or power ball? I didn't know this kind of exercise ball existed till my dad showed me one. Less than a minute in of using the gyro ball, my wrist and forearms were already beginning to feel sore. And it isn't expensive too!
What is a gyro ball (a.k.a. power ball)?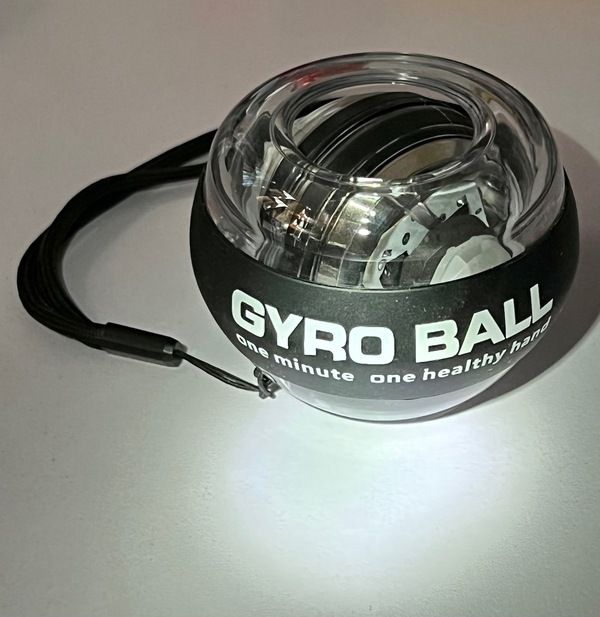 A gyro ball is a gyroscope-based workout tool. It's main purpose is for training to strengthen the muscles in your hand. The muscle that gets the most workout, of course would be your wrist muscles. This is because the wrist muscles would be the ones that would do the most work. However, in the process, all your other muscles would need to pitch in to keep the ball moving as you work it out.
Basically the Gyro Ball is a ball that is contained within a ball. It is a multi-facetted device that is baseball-sized which can be used for fitness, sports, rehabilitation or just for fun. And guess what, it is addictive.
The gyro ball fits snugly in the palm of your hand. The exterior of the ball is made from transparent plastic, with a rubber band wrapped around the centre for better grip. Inside the transparent ball, there's a gyroscope, which makes the ball spin inside the shell when you rotate the ball. To get the gyroscope inside to keep moving, this means you will have to constantly move your wrist in circular motion to create the inertia for the gyroscope to kick in.
The ball has a spring coil that you can wind up like those found in the old clock or clockwork toys. Once you release the spring, the gyro ball inside will start spinning. That's when you have to start rotating the ball in your palm so that the inertia of the gyro ball can be sustained, for it to spin. You will have to keep doing so to keep it spinning.
As you grip the ball and move your forearm and wrist, the ball inside the shell will spin. Increase the speed of your rotation, and the ball will spin faster inside the shell. You have to keep doing to keep it going. Stopping your movement will cause the ball to start shaking and it will feel as if it is attempting to escape from your grip. Hence, that is sort of a warning or reminder to you to keep spinning.
To make it more interesting, the kinetic energy generated by the ball's spinning powers the lights inside the ball. I guess that provides a little of colour or entertainment as you exercise. Can be quite mesmerising to look at those colourful LED lights. And I guess in a way, it also becomes an incentive for the user to keep it moving a while more, just to see the colourful flickering lights. This is one exercise tool that literally adds colour to your workout session. And if there is a power failure, I guess the gyroball will be a good toy to keep you occupied. It'll definitely be an activity that will keep the room illuminated and be a conversation point.
Because it's so compact in size, it can be taken anywhere and used whenever you have free time. The small size makes it easy to carry around in a bag.
What health benefits you get out of using it?
The gyro ball, is said to be a good fitness tool for the arms, wrists and shoulders. It is an effective resistance training tool. It can develop up to 40 pounds of resistance once as the ball increases in speed. As such, once you are able to figure out the exercise postures to target the different muscles, you will be able to prime the different muscles in your arms and hands.
There's a few fun ways to use the gyro ball. Here's what I usually do with the gyro ball:
Strengthening your grip
Playing with the gyro ball can strengthen your grip. First, hold the gyro ball with your fingers, with your palm touching just the back of the gyro ball. Make sure you grip the gyro ball strongly, especially when the ball starts revolving at a faster rate.
Rotate your wrist in a circular motion to increase the speed of the gyro ball. You will notice that you'll need to grip harder to hold the ball steady in your hand. With the momentum building inside the ball, it can get out of control! This is where your finger and wrist muscles get a good workout.
Strengthening your wrist and forearm
The gyro ball also helps strengthen and train your muscle strength in your wrist and forearm muscles. When I first tried it, my wrist felt strained after the first minute itself. By the time I got to the second minute, I was thinking about stopping.
To strengthen your wrist, what you can do is hold the spinning gyro ball in your hand, in an outstretched arm position with your palm facing down. Rotate your wrist up and down to get a rhythm going. Stretching your arm straight and trying to keep the gyro moving is more challenging for sure.
I guess if you keep working on your wrist muscles, you will eventually find your grip becoming stronger. For those racquet games that require some wrist work like badminton or squash, I think this little ball will make a difference in your grip and wrist control, hence, will contribute to the improvement of your game.
Know any other fun ways to use the gyro ball? Do let me know down in the comments!
Read also:
Where to get one for yourself?
I got mine from Shopee at this store. This one is called Glitter Wrist Ball because of the way the LED lights inside lights up in a colourful glitter whenever you work on it.
For some reason, the same item on Lazada seems to be always more expensive. Anybody knows the reason why? But if you prefer Lazada over Shopee, get yours here!