For those of you staying in Setapak or Wangsa Maju area, you have surely heard of Thai-In Mookata! This restaurant was introduced by my hometown friend who had been requesting for a meet since middle of last year. But due to COVID, I only managed to catch-up with him recently. Since then, I have visited two of their outlets.
Thai-In Mookata
Thai-In Mookata, as the name suggests, serves Thai barbecue. They have 4 outlets around KL / Selangor. My friend tried it when they first opened in Desa Setapak, and raved on how good it was. They have since expanded to Old Klang Road, Kepong and Subang. Since my friend had just moved to nearby Old Klang Road, he recommended that we have dinner at this restaurant, and brought me to their outlet in Old Klang Road.
Later that week, I had Thai-In Mookata again, but this time at their Subang outlet.
How to mookata?
To eat mookata, you first need to lather the pork lard to grease the metal skillet, on which you subsequently grill the meat on. Soup is poured into the moat surrounding the metal skillet, of which you can boil vegetables and other foods.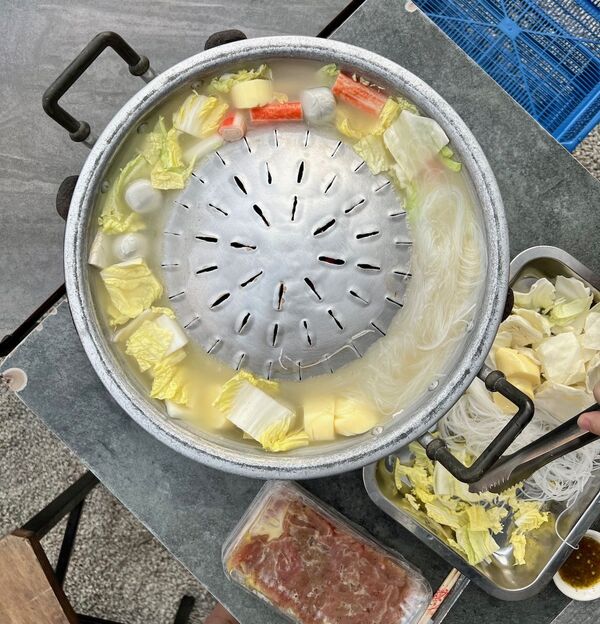 What's unique about this place is that they only use charcoal for heat. The metal skillet sits on a stand beneath the hot burning charcoal, which warms the skillet, allowing you to grill meats to a beautiful sear, and boil the ingredients in the moat surrounding the metal skillet.
Did you know?
'Mu krata' or 'Mookata', is a Southeast Asian cooking method, originating from Thailand. The word "mu" means 'pig' or 'pork' and krata is 'pan' or 'skillet' in Thai. Mu krata resembles a combination of a Korean barbecue and a Chinese hot pot, just that the Thai version uses charcoal.
Over time, the soup takes up the essence of the grilled meat juices that flow down as you grill the meat on the metal skillet. The combination of both the boiled vegetables essence and meat juices creates a flavourful and rich soup.
The Menu
Thai-In Mookata's menu is pretty simple. They offer two sets that comes with the basic vegetables, some sides, and meats. The difference between the two sets is just the portion. Set A is for 2-3 persons, whilst Set B is for 4-5 persons.
They have two different kinds of soup base – clear soup and their Bangkok Signature Tomyam (add-on RM5). I'd recommend you to take their clear soup (read on to find out why!). And oh, veggies and glass noodles have unlimited refills. So, if you're craving for Thai Mookata, and don't have much budget to spend on mookata, this is the place to go.
Since it was only the two of us, of course we went for Set A. Though it may not seem much from the picture below, it's actually more than enough for the two of us. Because you have unlimited refill of glass noodles and veggies, you will be definitely leave this restaurant full and satisfied.
If the set items are not enough for you, they offer a wide variety of add-ons on their à la carte menu.
Verdict – Surprisingly Nice!
Ingredients wise, it's pretty much the standard fare. The meats quality were decent, the veggies paired well with the soup, and their processed food was, well… standard processed food.
So why take their clear soup base? The key takeaway is their homemade signature sauce! It pairs really well with the glass noodle when cooked in the clear soup. If you take their Bangkok Signature Tomyam soup base, the pairing effect of their signature sauce is somewhat overwhelmed by the tomyam. I had a quite a number of bowls of the glass noodle with veggies in the clear soup mixed with their signature sauce.
Note: They do sell their sauce for RM15 a bottle.
The service here is top notch. Just minutes after placing your order, the staff will bring you your food within minutes.
The only thing I dislike about this place is that they use styrofoam plates as plates to pre-pack the meats and any other extra à la carte ingredients ordered off their à la carte menu. Although it's a cost-saving move from their end, and they can tend to customers' orders more efficiently, it's damaging to the environment in the longer run.
Price-wise, it's pretty affordable to get a filling meal! I highly recommend this place if you like Thai mookata.
Check out also:
My Rating
80%: Ambiance
80%: Price (value for money)
85%: Taste
80%: Location (ease of parking)
90%: Service
83%: Overall Rating
Opening Hours
Open daily from 5 PM to 12 AM (Closed on alternate Mondays)
Address / Contact Information
03 7971 5581 (Old Klang Road Outlet)
Thai-In Mookata (Old Klang Road Outlet) (Beside OUG Plaza)
No 1
Jalan Mega Kecil
Taman United
58200 Kuala Lumpur
03 5613 0033 (Subang Outlet)
Thai-In Mookata (Subang Outlet)
No 6
Jalan SS 13/3E
Subang Jaya Industrial Estate
47500 Subang Jaya
Selangor