Roti canai is my favourite breakfast meal! It is arguably Malaysia's most favourite breakfast meal. Roti canai is a piece of dough that is kneaded, thrown, flattened, oiled and cooked on a flat iron skillet. It is usually served with kuah dhal with sambal ikan bilis, fish curry, or even with sugar or condensed milk. Located in a sleepy town up north, Jitra, is Pak Lang Roti Canai.
See also: Instagram (@lifeofaworkingadult) Gallery of Pak Lang Roti Canai
Fun Fact: Jitra is a town and a mukim in Kubang Pasu District, in northern Kedah. It is the fourth largest town in Kedah after Alor Setar, Sungai Petani and Kulim.
Pak Lang Roti Canai
Located just by the main road on a sleepy street of Taman Siswa 2 in Jitra is Pak Lang Roti Canai. You can't miss it, because this was the only shop that was packed with people along that street. Apparently, this shop is famed for its roti canai in Jitra, so I decided to give it a try.
The stall was quite packed when I arrived at about half past nine in the morning. There were food delivery riders (Grab and FoodPanda), as well as some folks waiting for their takeaway orders to be ready. I noticed that most of those orders were 10 pieces and up. Inside the store, the tables were also full, though luckily enough I didn't have to wait long for a table.
Seeing so many people making huge orders raised my hopes for a good old Malaysian breakfast. Pak Lang Roti Canai offers the full range of roti canai. They have roti sardin, roti telur, roti telur bawang, roti pisang, roti tampal, roti telur, roti bom, roti milo, roti planta, roti susu and roti biasa. The only perhaps out-of-the-ordinary roti variant to me was that they also offered roti jantan, which I didn't know till after I ordered. Apparently, the roti jantan up north is different from of those from the south. But alas, I didn't get to try it.
Roti Jantan is essentially roti telur but with two eggs instead of one. This is roti canal with pun intended, and if I may add, sexist too.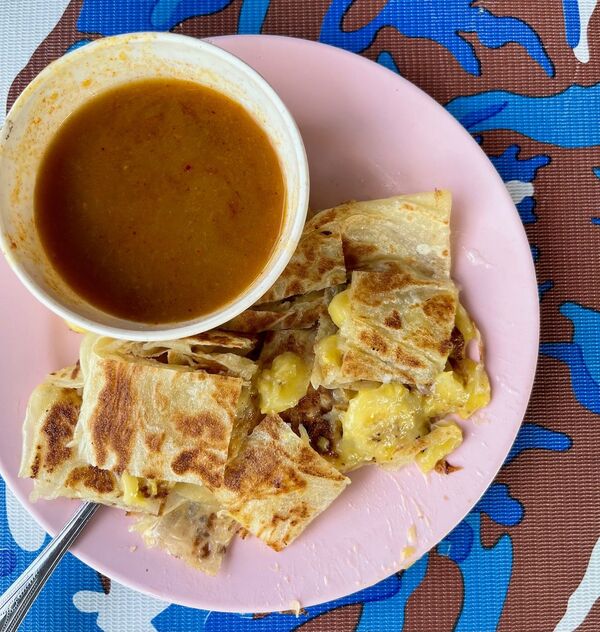 Verdict
The entire meal cost RM12 for two persons (2 set roti kahwin (roti kosong + roti telur) , 1 roti pisang, 1 nasi ayam, limau ais and teh tarik), which was really reasonable.
Taste-wise, the roti canai was crispy, though I felt that the dhal could be better though. After all, the taste of the dhal is equally important as to the taste of the roti canai. Unfortunately, I am unhappy to report that I was rather thirsty afterwards though. Because of this, I probably would not visit the store again, unless I happen to be in the area.
If you're too lazy to drive out there, you can order Pak Lang Roti Canai on GrabFood and FoodPanda, though the prices listed in those food delivery services are more expensive than in store.
P.S. GrabFood's pricing is slightly cheaper.
Check out also:
My Rating
70%: Ambiance
80%: Price (value for money)
70%: Taste
80%: Location (ease of parking)
70%: Service
74%: Overall Rating
Opening Hours
Open:
6:30 AM – 12 PM, 5 PM – 12 AM (Mon, Tue, Wed, Fri, Sun)
5:00 PM – 12 AM (Sat)
Closed on Thursdays.
Address / Contact Information
012 404 0585