StashAway Malaysia. Is it legit? Legal? Is It safe? Does it make you money? StashAway is a brainchild of Michele Ferrario. It was founded in Singapore in 2016.
They obtained a capital-markets license from the Monetary Authority of Singapore in 2017, offering sophisticated investment framework that was once only available to institutional investors. On October 2018, StashAway landed in Malaysia, being the first player to obtain a Digital Investment Management License for fund management from the Securities Commission in Malaysia. They launched their platform to Malaysians in November 2018.
Read also: [Review] Versa – Duit Your Way – The New FD?
A month after their launch in Malaysia, I signed up. I have been using StashAway since December 2018 (since pretty much the beginning). Here's my review.
Is StashAway Malaysia legal?
The first step to determine whether a platform is legit in Malaysia, is to check whether they are regulated by the SC, and they are! They are Licensed Fintech Operators for Digital Investment Manager, awarded on October 2018.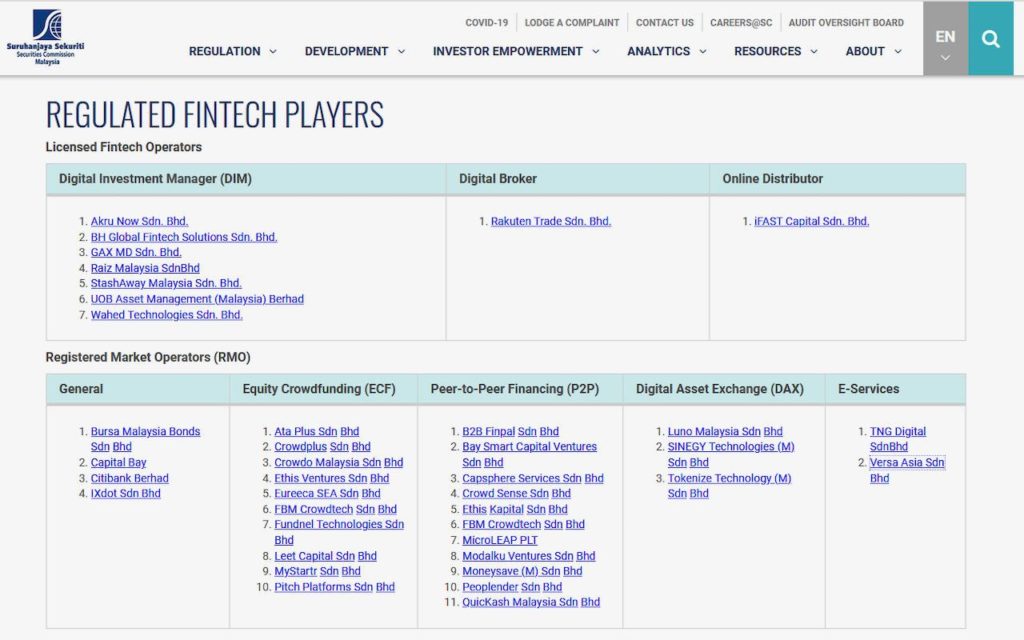 Key Features of StashAway Malaysia
Criteria
Description
Invested in
StashAway Malaysia invests in ETFs, because they are exchanged listed products with deep liquidity, high trading volumes and very low expense fees.
Currency
You deposit in MYR, but StashAway will convert it to USD (currency conversion fee applies) and begin investing it for you.
Annual Fees
General Investing and Goal-based Investing Portfolios:
0.2% – 0.8% / annum depending on amount invested.
Approximately 0.2% expense ratio charged by the ETF manager.
StashAway Simple:
No management fee.
Approximately 0.5% net expense ratio charged by underlying fund manager.
Other charges
They charge the following:
– 0.1% on Currency Conversion with spot rate.

Other than that, none whatsoever.
– No registration fees / exit fees.
– No sales charge.
– Unlimited, free withdrawals.
– Unlimited, free transfer between portfolios.
Fund Management
Your investment funds are separately managed by Pacific Trustees Berhad (custodian bank: Citibank) and invested through SaxoBank's brokerage account. That means, in the event that StashAway liquidates, your investments are safe.
Shariah complaint
Unfortunately, no they are not.
Security features
– Two factor authentication.
– Secure server infrastructure – hosted on Amazon Web Services.
– Withdrawal verification.
How does StashAway Malaysia work?
First of all, it's a platform, a fully online intermediary that helps you construct and rebalance your investments. They utilise artificial intelligence ("AI") that takes in relevant economic and financial data to make smarter investment decisions on your investment portfolio.
As we all know, AI learns from it successes and mistakes over time to better improve itself, continuously, and feeds on data. Of course, its success depends on the algorithm that is programmed into the learning and decision making process by humans, of which they are constantly improving. They have been doing a pretty good job so far, but more on that later.
Their investment framework is based on their Economic Regime-based Asset Allocation ("ERAA") algorithm. They only invest on indices (e.g. ETFs), and do not invest in single securities (e.g. stocks). They also do not use leverage and do not take short positions – which is a more straightforward investment style.
So once you sign up, you will get to determine your risk appetite / index by answering a series of questions. Do note that you can have multiple portfolios with different risk index depending on your end goal. I will share the performance till date of two of my portfolios I've created (since Dec 2018 and Jun 2019) down below.
How are returns calculated?
Basically on the app, there are two metrics that StashAway uses to compute your return – time-weighted return and money-weighted return. These are available in their app.
Time-weighted return:
Measures the compound rate of return over a given period for one unit of money.
In other words, it does not take into account the impact of cash flows in and out of the portfolio.

Money-weighted return:
Measures the compound growth rate in the value of all funds invested in the account over a given period.
In other words, it takes into account the impact of cash flows in and out of the portfolio.
Also, any dividends received on your investments will automatically be reinvested into your portfolio.
Why do I like StashAway Malaysia?
Reason 1: It's one of the cheapest ways to invest in Malaysia!
No kidding! Where are you going to find a place where it charges you a maximum of 0.8% per annum on total fees? Most mutual fund houses or banks charge you:
– an upfront of up to 5% in sales fee; and
– an additional 1% to 3% on other fees like management fees and transaction fees.
You already losing money before you make anything in return.
Reason 2: Invest globally with low barrier of entry!
Most funds require a minimum deposit of at least RM500, larger more establish funds may require much more capital. Whereas, StashAway requires no minimum deposit to begin in investing.
It's a great way to diversify your portfolio with StashAway.
Reason 3: No headaches of what to buy, when to buy or sell. Automatic rebalancing and re-optimisation!
It's always challenging to determine when an investment is at its rock bottom, or peak. Sometimes, there might be a need to rebalance your portfolio. Of course you could learn it yourself, but like any skill, will take years to master the craft. If you're the lazy sort or new to investing, StashAway provides you the perfect platform to start investing.
Reason 4: Transparent on their policies / asset allocations, etc.
Furthermore, they are pretty transparent with what they buy and sell. You can view what rebalancing they have done to your portfolio vide the "Transactions" option in your StashAway app. After all, they follow their ERAA algorithm investment framework, which has proven to be effective thus far.
You can always see what your portfolio is invested in under "Assets" through your StashAway app (though you can't decide which to buy or sell, you can only adjust your risk level). These are what assets StashAway invests in should your risk index be set at 8%.
Reason 5: It's easy to sign up.
It's really much easier than trying to open a brokerage account at an investment bank. Furthermore, you'll need to familiarise yourself with their brokerage platform / app. With StashAway, the sign-up process is pretty straightforward. Fill up your personal details, answer a questionnaire, submit some documents, and you're good to go. Typically, StashAway takes up to 2 business days to verify your account. In the event that they don't, you can always follow-up via their WhatsApp number. Once verified, you can begin investing via StashAway.
Note: Should you wish to sign up with StashAway, do sign up using my referral link here. If you do, we'd both get up to RM30,000 managed for free for 6 months.
Investing really made easy.
Some warnings
Withdrawal amounts might be different due to the way these funds work
Just to note that when you make a withdrawal, you may notice a slight fluctuation in the amount you actually receive. This is because of the way how buying and selling such financial instruments work. ETFs and mutual funds are priced on a forward pricing method, which is a widely adopted pricing method within the industry. As such, the price of the fund when sold is only known 1 to 2 business days later. Hence, that's why you see in those fund fact sheets, they have a buy processing time T+3 days clause / redemption processing time T+6 days clause.
Also, since StashAway Malaysia invests in USD, there's also another layer of foreign exchange differences which might be in your favour or not.
This is an investment for the long-term, it's not a quick rich scheme
There will highs, and there will be lows. If you invest consistently, you'll be able to average down / up your cost of purchase. StashAway does not guarantee your returns, nor do they guarantee to beat the market day after day.
Performance of StashAway thus far
Well, I have been investing on StashAway Malaysia since almost its inception. Here's the performance of my portfolios for risk index 8% and 30% thus far.
As you can see, I've not been really consistent with my deposits, but the returns are pretty good.
Questions? Please feel free to drop them in the comments.
Disclaimer:
The above is solely the author's point of view. Our content is intended to be used for informational purposes only. It is very important to do your own analysis before making any investment based on your own personal circumstance. You should take independent financial advice from a professional in connection with, or independently research and verify, any information that you find on our website and wish to rely upon, whether for the purpose of making an investment decision or otherwise.