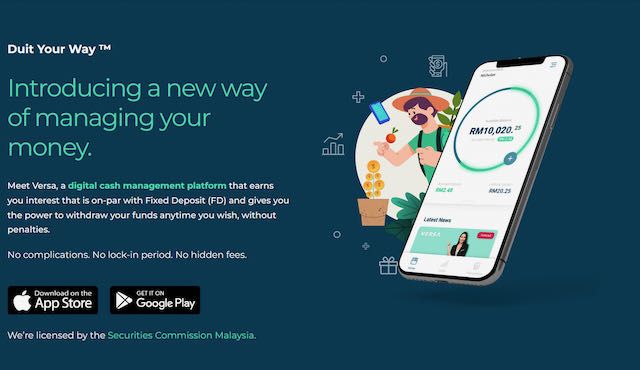 No complications. No lock-in period. No hidden fees. Can anything that simple and straightforward and on-par with fixed deposit rates be that great?
Hence, I decided to try this platform / app out, and turns out it does hold true to its promises.
Are they regulated by the Securities Commission ("SC") Malaysia?
When it comes to investing in Malaysia, the first step is always to check whether they are regulated by the SC, and they are! They are registered market operators for E-Services.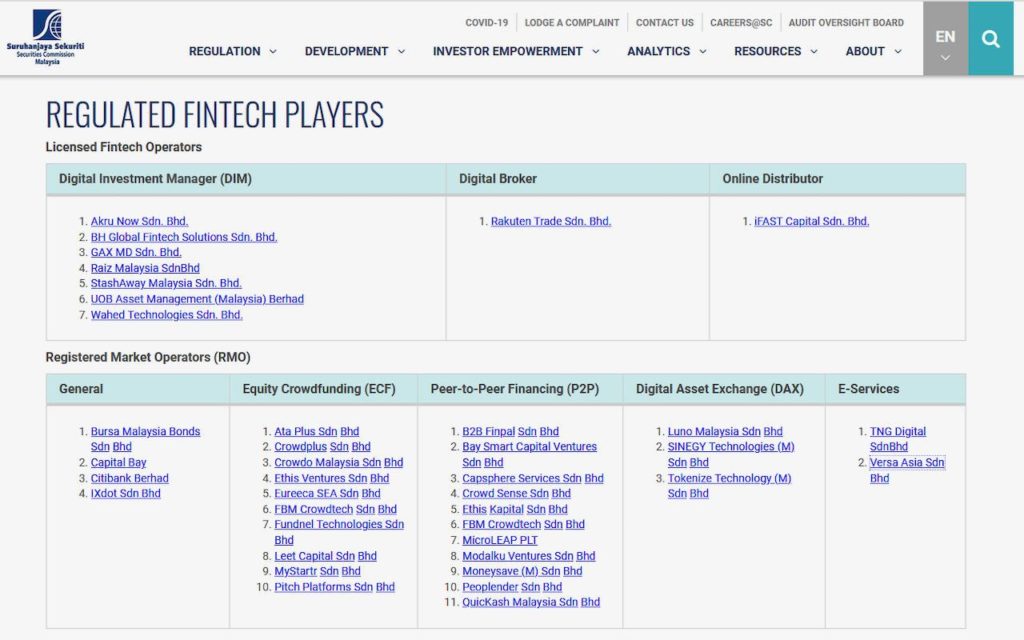 Is it really better than Fixed Deposits offered by banks?
Here's a summarised comparison:
Fixed Deposits
(for individuals)
Criteria
Versa
1 month tenure and above
Minimum tenure
None
Usually:
RM5,000 for 1 month tenure;
RM1,000 for 2 months tenure and above
Minimum deposit
RM1
Instantly
Time taken for the deposit to be reflected in your account
Up to 3 business days (Note 1)
Yes, plus its insured by PIDM up to RM250,000.
Capital guarantee
No
N/A
Investment strategy
They invest in Affin Hwang Enhanced Deposit Fund (Note 2).
Determined and agreed upfront with the bank, though currently most banks offer way below 2.4% (as of Mar 2021).
Interest rate
Depending on the performance of Affin Hwang Enhanced Deposit Fund.
Currently, they have a 2.4% per annum return on average.
You get nothing but the initial deposit (and sometimes need to pay a penalty).
Premature withdrawal
No minimum tenure- what you earned / see in the app is what you get.
Instantly
Time taken for the withdrawal to be reflected in your account
Your withdrawal will take up to 2 business days to reach your bank account (Note 3)
None
Any hidden / extra charges
None – Versa does not charge sales charges, transfer and exist fees.
Note 1 – The time taken for your deposit to be reflected in your Versa account
Based on their FAQ on their website, they state that the deposit amount will be reflected on your available balance within 2 business days after Versa processes your deposits (with examples shown on their website). However, on their app it is stated that it will take up to 3 working days to process your deposit request.

I've deposited twice on their mobile app, once before 12 noon (their cut-off time), and once after. Both deposit transactions were reflected on the second business day.
Read also: [Review] GO+ by Touch 'n Go eWallet – The New Way to Save and Spend?
But fret not, you'd still earn overnight interest whenever the time gap between you making a deposit and Versa processing it takes 24 hours or more (Source: Versa website). Which I did earn for both deposit transactions, so either way it's a win.
Note 2: Versa invests in Affin Hwang Enhanced Deposit Fund
Affin Hwang Enhanced Deposit Fund invests in a diversified portfolio of good quality, short-term fixed income instruments and money market instruments, including deposits, bankers' acceptances, negotiable certificates of deposits and commercial papers. Other fixed income instruments comprise of government and government-sponsored bonds, and private debt securities with a maturity period of not more than 732 days.
Generally the items that the Fund invests in are relatively stable, plus the fund size was at RM2.2 billon as of 9 Mar 2021. With a fund that big, it's highly unlikely that the fund will fail easily. Furthermore, based on historical performance, the Fund has without fail, distributed returns on a monthly basis.
Note 3 – The time taken for your withdrawal to be reflected in your bank account
Based on their FAQ on their website, they state that your withdrawal instruction will take up to 2 business days to be reach your account.
I have withdrawn once from their platform, and the entire process took 2 business days. Just to note that the amount you indicated during your withdrawal instruction might be slightly different, as the unit price of the fund might change from the time you place your withdrawal instruction, with the time they actually process your withdrawal instruction. I got 2 cents extra from my original withdrawal instruction.
Why Do I Like Versa?
Reason 1 – Provides Access to Fixed Income and Money Market Instruments
Versa provides a platform to access to fixed income and money market instruments which would not otherwise be available to low net worth individuals like me. The fund that Versa invests in – Affin Hwang Enhanced Deposit Fund, usually has a minimum initial investment of RM30,000, and any additional investment has to be RM10,000 and above.
Reason 2 – The money market instrument that Versa is investing in is managed by Affin Hwang
Affin Hwang Capital Asset Management is a reputable and experienced fund house with roots ever since it started in 2001. They have managed over RM75 billion, and have won numerous awards.
With such a stellar performance record, I think investing with them is pretty much safe.
Reason 3 – Perfect place to earn interest with no lock-in clauses or charges
The flexibility offered by Versa is awesome! Now, I am able to plan my finances in such a way that I can earn extra interest by using Versa on amounts earmarked for bill payments, and you could too!
Let me illustrate, let's say pay day is on 23 Feb 2021, and your credit card bill is due on the 11 Mar 2021. That's potentially 15 days of interest that you can earn by investing on Versa, which you wouldn't have gotten anywhere else.
Though, I might decide to withdraw a day or two earlier before a bill is due to avoid paying late payment penalties, as these penalties will be definitely way higher than the interest offered by the fund.
Now, isn't this a great way to maximise earnings, even from money earmarked for bills?
Update (Aug 2021): Versa has introduced a referral program, sign up using my link here and we both get RM10! A minimum deposit of RM100 is required for the reward.
Disclaimer:
The above is solely the author's point of view. Our content is intended to be used for informational purposes only. It is very important to do your own analysis before making any investment based on your own personal circumstance. You should take independent financial advice from a professional in connection with, or independently research and verify, any information that you find on our website and wish to rely upon, whether for the purpose of making an investment decision or otherwise.