Luckin Kopi at Petaling Street. I've heard rave reviews about this place from my friends. I was a little skeptical because how good can a kopitiam be? After reading a few reviews on this place, I decided to drive to the city centre to try it out, just to find out that it was another overrated cafe… but more on that later.
See also: Instagram (@lifeofaworkingadult) Gallery of Luckin Kopi
Location of Luckin Kopi
Firstly, the parking was horrible. Since it's right smack in the middle of the city centre, public parking is scarce. It's almost impossible to get any public parking available there. The next best alternative is to park at the private carparks available nearby… but they charge a bomb! Just opposite Luckin Kopi is one that charges RM10 for the first two hours (which I paid as I had no other alternative). Do take note that they will charge you extra should you go over two hours. A cheaper alternative would be to take the train to Pasar Seni and walk for about 5 minutes to the cafe (which I didn't know!).
I visited the cafe at about lunch time on a weekend. It was no surprise that there was a crowd waiting outside the cafe since there were so many good reviews. What I did like about this place was that they had a queue system at the entrance where you can get a number and wait for your number to be called. Unfortunately, they aren't like Beauty in the Pot where they will call your mobile when it's your turn. They also have a waiting area inside with chairs (though limited). I was lucky enough to get a table in less than 5 minutes.
Real Kopitiam Instagram-worthy decor
It's no question that the cafe ambience is instagram-worthy. The deco in the cafe has that nostaglic feel of the good old days, but with a modern twist. The cafe itself is quite spacious – it spans over four sections (front, mid, back and first floor). Apparently the middle section is an instagrammable area cum waiting area, of which the deco changes from time to time.
However, taste-wise, it was kind of let-down. For mains, I tried their Indo Mee Biasa Pedas with Rendang Chicken (RM12.90) and Funky Nasi Lemak with Curry Lamb (this came with Luckin Kopi Kaw – RM19.90). I also tried their Luckin Toast (RM12.90) and Cendol (RM5.90). I'm sad to say I didn't like any of the dishes I tried.
Indo Mee Biasa Pedas with Rendang Chicken – RM12.90
Their Indo Mee Biasa Pedas wasn't spicy at all. Though the sambal served together with it was spicy. However, their Rendang Chicken was a big letdown! It tasted more like curry, and didn't have the usual rendang look or flavour. Since when the kuah for rendang was so watery?
Funky Nasi Lemak with Curry Lamb (RM19.90)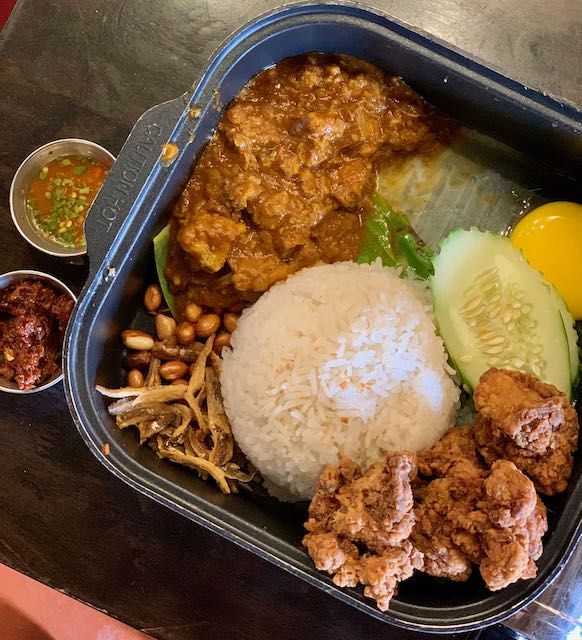 The Funky Nasi Lemak with Curry Lamb is served in a pot on a portable gas stove. It comes with quite a spread – fried chicken, ikan bilis, peanuts, cucumbers, curry lamb, egg, sambal and sweet chilli sauce. The raw egg is poured into the pot and is cooked right in front of you (a little extra – but points for trying to be different). The curry lamb was too peppery for my liking, but the lamb was tender enough.
Luckin Toast – RM12.90
Their toasted bread was too thick and hard. I would have preferred thinner toast bread… how the way toasted bread should be! On the bright side, the half boiled egg that was included in Luckin Toast set was done just right. They, however, did not provide any soy sauce.
Cendol – RM5.90
Their cendol tasted weird too. I felt that the gula melaka wasn't authentic enough. Give me James Cendol any day!
Verdict –

Meh
What's weird is that based on the other reviews I've read about the cafe, most are saying that the food here is awesome. Furthermore, the food pictures they posted looked way more appetising and sometimes different (e.g. like the Luckin Toast, the bread I saw in the pictures in reviews were thin toasted bread as compared to the thick toasted bread that I had, or the Rendang Chicken) as compared to what I had at the cafe. Maybe the chef was having a bad day, or the dish that I was served wasn't done properly.
Nonetheless, I'll definitely not be back for more.
My Rating
85%: Ambiance
70%: Price (value of money)
40%: Taste
60%: Location
80%: Service
67%: Overall rating
Opening Hours
8 AM – 9 PM (Daily)
Address / Contact Information
016 397 6898
14
Jalan Panggong
City Centre
50000 Wilayah Persekutuan
Kuala Lumpur