Tucked away nearby Cheras Leisure Mall, is Anne Elizabeth The Deli Restaurant. It's a small and quaint little restaurant hidden away from the city. I rarely visit Cheras since it's at the other side of town, but as my friend highly recommended this place, I decided to be adventurous and go for it anyway!
See also: Instagram (@lifeofaworkingadult) Gallery on Anne Elizabeth The Deli Restaurant
Location of Anne Elizabeth The Deli Restaurant
Parking can be a problem though, since it's so near a mall. Also if you plan to visit the restaurant on a weekday, prepare to face jammed up roads, as there is also a school nearby.
Surprisingly, when I visited the store after lunch time on a weekday at about 2 PM, it was still packed with people and there were still people coming into the restaurant.
Meat Menu Choices Galore
This deli restaurant has a broad selection of meat, seafood and sausages! To place an order, you will need to first get a table. Then, make a selection from the selection of meats at the counter and tell them your preference of how well you would like your meat to be cooked (if you are unsure, you may ask the staff for recommendations!).
I had their Abanico Pork (RM39.80), Bacon Bratwurst Sausage (RM10.90), Spicy Russian Sausage (RM7.90) and Portobello (2 pieces) (RM27.90).
Abanico Pork – RM39.80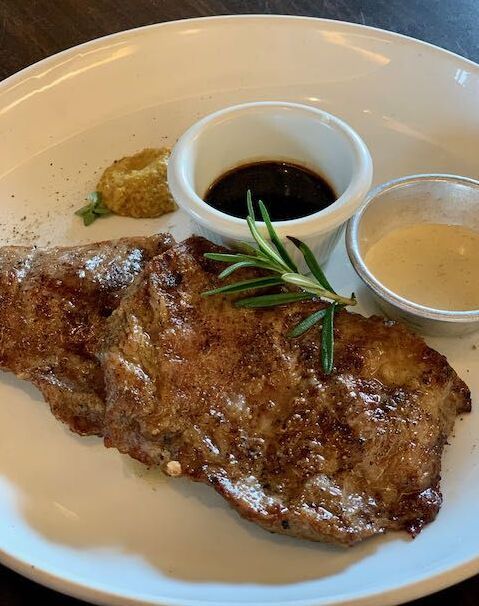 Their Abanico Pork was highly recommended by their staff. It's their signature. Abanico is the marbled slab that wraps the ribs from the outside. It is sometimes known as the wagyu of pork. To my surprise, this cut can be grilled to either 70% doneness or well done. I never knew that pork could be eaten not fully cooked. But to be safe, I ordered mine to be well done anyway.
At first look when it was served, I thought it will be chewy and hard. But it was the complete opposite! The texture of the Abanico was superb… the meat was very juicy and utterly tender. The dish is served with the three condiment sauces – mustard, dark caramelised roasted gravy and pepper cream; which all paired the pork well.
Bacon Bratwurst Sausage – RM10.90 and Spicy Russian Sausage – RM7.90
Next up, sausages! They have a wide array of sausages to choose from. As it was my first time here, their staff recommended me their Bacon Bratwurst Sausage and Spicy Russian Sausage. I must say I really liked their Bacon Bratwurst Sausage. However, their Spicy Russian Sausage has a spicy kick that leaves an aftertaste that I didn't really fancy, but still good nonetheless.
Portobello Mushroom and Cheese – RM27.90
They also serve portobello mushroom too! They serve it with either cheese, or bacon and cheese. I had the one just with cheese. The portobello was awesome (not really a mushroom lover here)! It didn't have the typical strong mushroom taste, and the cheese paired well with the portobello.
Read also: Mama Mee 夜宵食堂 @ Kepong Baru, Kuala Lumpur
Overall, prices are decent and the service is top-notch. Their staff really know their meats! A true hidden gem and a highly recommended place to dine! I'll definitely be back to try their beef and seafood next time. Just that pity it's just so far away.
My Rating
90%: Ambiance
80%: Price (value of money)
85%: Taste
70%: Location
85%: Service
82%: Overall rating
Opening Hours
12 noon – 11 PM (Sat to Thurs)
(Closed on Fridays)
Address / Contact Information
03 9130 0319