This famous curry noodles / lor mee shop, or famously known as "Midnight Curry Mee Alor Setar" has been around ever since I was studying during secondary school (or even earlier than that). It used to be only open from 11 PM onwards till 5 AM, and was the only stall open at that dark street. Fast forward to today, the street is now a much more vibrant place, hosting to more stores, giving the place more options for hungry late diners. Thus, being forced to conform, this store is now open from 8 PM onwards.
See also: Instagram (@lifeofaworkingadult) Gallery of Curry Noodles @ Pekan Cina, Alor Setar
This stall is run by a Chinese couple and is still being run by the same couple after all these years. What makes this stall unique is that you get to pick your own ingredients to be in the curry noodles / lor mee. They have wide variety of choices available, ranging from dried squid to abalone to all sorts of fish/meatballs.
Friendly reminder: As this is an open-air stall, do try to bring some mosquito repellent or wear long pants. Otherwise, while you feast on your bowl of noodles, the mosquito will feast on your blood as well.
How to Order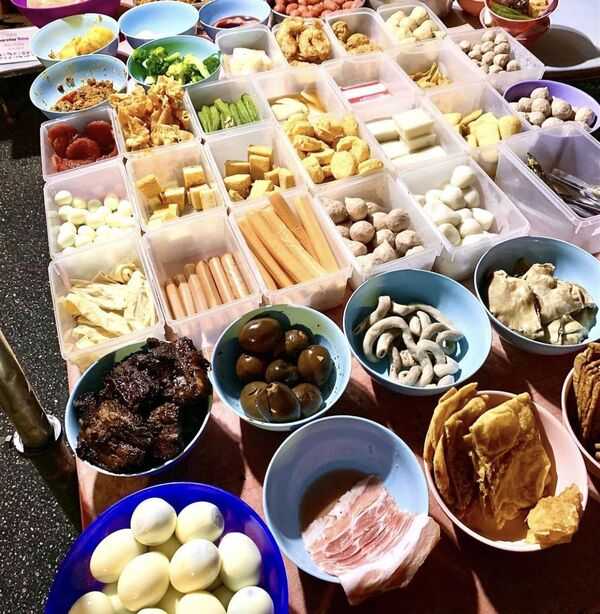 So how this works is that you will take the bowl available on the table and pick and choose whatever add-ons you want. Then you tell the uncle whether you would prefer yellow noodles or bee hoon; curry or lor (thick starchy gravy – but don't bother lor as their curry is more popular!).
Read also: Mansion 28 @ Alor Setar, Kedah
Do note a standard bowl already comes with bean sprouts, tau pok, egg, chicken and pig's blood curd. Of course, all the standard items are optional (you may tell the uncle whatever you dislike – like me I always ask him not to put the pig's blood curd as it grosses me out). Also, try dipping the yu cha kueh (add-on) into the curry! It's awesome!
Midnight Curry Mee Verdict –

Recommended!
It has been years that I have patronized this eatery, and I'm happy to say that the taste hasn't deteriorated one bit!
Usually there's quite a queue, regardless of any day you decide to visit the stall. It still is as popular as when I first got to know about this place. On only very rare occasions there would no queue. The wait normally would take anywhere from 15 minutes to 1 or 2 hours plus to get your bowl of curry mee / lor mee.
Parking is also quite hard to find, since the stall is at the road side after all, and many other stores have mushroomed out since then, occupying even more parking space. Expect to find it hard to get a parking on the same street as the stall. There are usually parking available in the next street or the street before.
Overall, it can get a little pricey as compared to the other eateries in Alor Setar. But then again, they don't open at such hours, and it's pretty hard to find a decent midnight eatery in Alor Setar.
My Rating
60%: Ambiance
70%: Price (value of money)
90%: Taste
70%: Location
80%: Service
74%: Overall rating
Opening Hours
8 pm – 3.30 am (Mon – Sat)
(Closed on Sundays)
Address / Contact Information
Roadside
Jalan Tunku Yaakub
Taman Pesisaran Tanjung Chali (Pekan Cina)
05000 Alor Setar
Kedah, Malaysia