Rainbow Waterfall @ Sungai Lembing, located around 40 km away from Kuantan city, is a place to visit for waterfall / nature lovers! This place is pretty much undisturbed by civilization other than the deforestation activities happening around the protected forest.
Random fact: Back in the day, Sungai Lembing used to be a famous tin mine town, till tin prices plummeted. It's now a sleepy, laid-back town.
Getting there
To get to the waterfall, you need to take a package from a local tour guide, costing you about RM40-60/per person. If you are staying overnight in Sungai Lembing, the hotel you're staying at would usually arrange everything on your behalf. There's no need to worry if you're solo or in a small group, you will be able to make friends with fellow nature enthusiasts. I paid RM60 for my trip.
The roads to the waterfall are not proper tarred roads, but instead mud roads and small streams. So don't go trying to get there yourself in your normal car! It's impossible to get in unless you have a four-wheel-drive (4WD) of your own. If you still insist of heading there on your own, do note that you still need to get a permit pass to get in, as it is located in a protected forest area.
The RM40-60/per person tour would include:-
– Picking you up from your hotel;
– Dropping by a nearby local hawker centre for breakfast;
– A sunrise pit-stop (only during certain months of the year);
– A trip in and out of the waterfall;
– Complimentary noodle cup and milo at the waterfall made with water from the waterfall;
– A stop at natural hot springs (not all guides offer it); and
– Sending you back to your hotel.
Things to bring:
– Proper shoes / sandals with good grip (I hiked in my crocs);
– A change of clothing in a water resistant bag (you'd be dealing with a lot of water);
– Enough water to stay hydrated (although the water from the waterfall is good to drink, according to YF); and
– Salt (for the leeches).
Start of the tour
I woke up at about 5.30 AM to prepare for my journey towards the Rainbow Waterfall. At about 6 AM, the local guide (his name was Yun Fei, "YF" for short) picked us up in his modified 4WD. It was a group of 8 including YF. He then brought us for breakfast at the nearby hawker centre. I was lucky to get YF as our guide. He was friendly, knowledgeable and super comical. He explained random facts about the waterfall, nearby mountains, and Sungai Lembing's famous foods and history as the tour progressed (which you'd read about it as you go along).
Sunrise pit-stop
We departed from the hawker centre at about 6.30AM, where we then proceeded to make a stop to see the sunrise before heading to the waterfall. Here, YF explained that during certain months of the year (i.e. early of the year), they would not make this stop but head directly to the waterfall, as the rainbow would only appear at the waterfall for only a short period of time (9 AM – 10 AM; other months can last till about 11.30 AM) due to the positioning of the sun.
Also, he added that they usually do not make trips at the end of the year as the place would be flooded due to heavy rainfall. Best months to visit are the months of July – September. He also emphasised that, there's also a luck factor, there is no 100% guarantee that we would be able to see the rainbow due to uncertain weather conditions! He got us worried at this point as it was pretty cloudy at the moment (but thankfully cleared later on).
The journey to the foot of the waterfall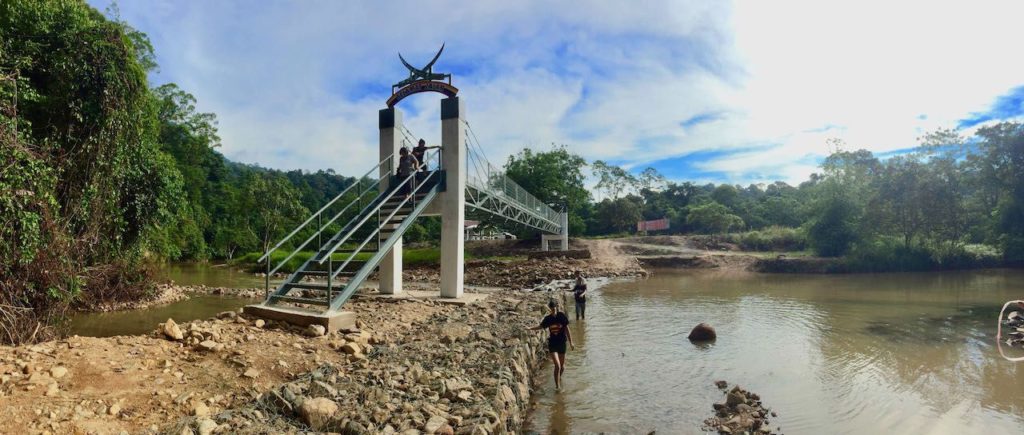 The journey to the waterfall was much longer than I expected, taking about close to an hour on the 4WD after the sunrise pit-stop. During the journey, you'll see areas that are being forested (the non-protected forest areas), and also cross mini-streams on the 4WD. Thereafter, we had to cross a bridge and continue hiking for another 45 minutes to reach the area where the rainbow would appear.
YF told us that the construction of the bridge and toilets had recently been completed. It would also be his first time crossing the bridge. However, he suggested that we cross through the river as it would be more fun, and we agreed! The water was shallow and cold. We only used the bridge on our way out.
The hike up to the waterfall
The hike up to the waterfall was overall easy (for me), with certain parts of the trail having ropes (tied by the tour guides) to ease visitors in their climb up/down. I would say some parts can prove to be a little challenging for those with knee or balancing problems. Also, the part nearing the waterfall can be rather slippery (huge slippery rocks / boulders), so do wear shoes/sandals with proper grip! YF, being 50+, had no problems going up the hill. Most of the time, he was waiting for the group to catch him up. I hope next time when I'm his age, I would be still as fit as he is.
Also, watch out for those pesky damn leeches.
The waterfall itself is not really spectacular (prepare to expect a spray, unless after a heavy downpour the day before). But it's the spray that allows you to see the rainbow when the sun is still low.
One piece of advice, if you do make a trip here, I would suggest that you find a group who isn't rushing for time (as some people need to rush out to check-out of their hotels at 12 noon). Also, go during weekdays / off-peak seasons, unless you want to crowd with the crowds. YF said that during peak seasons, usually there is no place to sit and enjoy your cup noodles and milo in peace, even more the water.
We were lucky, there were no more than 4 tour groups present. By 11.30 AM, we had the whole place to ourselves, as the other tour groups had to rush back to check-out of their hotels. Hence, do plan your time appropriately to enjoy the full experience of the rainbow and waterfall!. It was a pity that I didn't bring a change of clothing.
YF, isn't a person who minds to get wet (unlike the other guides I noticed around that day), he brought us to certain spots to see different rainbow formations (e.g. inverted rainbow, full circle rainbow, double rainbow, the actual rainbow, etc.). He also taught us how to climb up a small part of the waterfall (mind you, it was slippery and a little scary, but when he went up, it looked damn easy) to see different rainbow formations (I got soaked here, but who cares?).
Doesn't look really clear in the picture, why not head over there yourself to experience it? I assure you that it's much different from what pictures can tell.
Remember to keep the place clean! Take your rubbish with you so that others can enjoy this beautiful place like you did.
We only proceeded to hike down at about 12 noon.
The hot spring
I didn't know that YF would actually bring us to see the hot-spring as it was already 12. We were tired and some of the others were already dozing off during the bumpy ride out. On the way, YF suddenly stopped and asked us to witness a snake devouring another snake! I was thinking, it was a good thing that no snakes appeared during our hike in/out and at the waterfall. So, always keep a good lookout wherever you go (mind, these snakes are poisonous!).
YF said that the hot-spring water is good for your skin, and he frequently visits this place with his wife to dip in it.
The experience
The overall experience was awesome! The journey on the 4WD itself, is already a unique experience. Not to mention that witnessing the rainbow at the waterfall would leave you in awe.
If you ever do visit the Rainbow Waterfall and are looking for a guide, you may contact Yun Fei @ 019 988 6377 (my guide), or look up any other guides provided by your hotels.
Read also: Burger & Lobster @ Genting Highlands, Pahang
I am glad that I took the effort and made the trip. To many more such adventures in the future!